Before we get to House Music Friday (50% Housier than the other leading brand!), I have to make sure that you don't forget to download the
"Too Much Devil" Mix
extravaganza that pre-empted our usual Friday fare last week. Go ahead, I'll wait... it's so good, you'd sell your soul for it...
...
...
That sound you just heard = crickets. Anyhoo...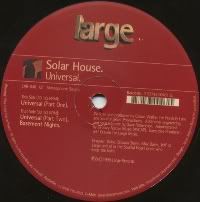 If it seems that HMF (we're familiar enough to use acronyms, no?) often turns to Chicago's Large Music for material, well... it does. This is the 3rd time in the past year! But I'm cool with that considering how ridiculously redundant other, more "established" blogs are. Take, for instance, oh...
Gorilla Vs. Bear
. Very big blog. Approximately a zillion times more popular than this one. They got fancy American Apparel ads and everything. Now, they like (the borderline unlistenable) Animal Collective, just like I like Large Music. They've been around almost exactly twice as long as me and post about twice a day... so, that would mean, my 3 Large posts would be the equivalent of 12 Gorilla vs. Bear posts, percentage wise. So how many times has Gorilla vs. Bear posted on Animal Collective in the last 4 years? Would you believe
581 FUCKING TIMES
? Is that pathetic or what? They should rename that blog Our Lips vs. Animal Collective's Cocks. Just sayin', if you wonder why the music scene in this country sucks... well, it ain't Large Music's fault. Because all they do is put out quality gear, like this deep jazzy business from
Solar House
, who are a bit of bitch to Google in these Eco-conscious times...
Solar House - Universal (Part One) (ysi)

Don't try to figure out that last segue, because it makes zero sense. Anyhoo, the point of all this ranting? Other blogs suck... like, hard. Like "chrome off the trailer hitch" hard... so...
Thank you for choosing Tonegents, and have a fantastic weekend!