Today, the shuffle takes us on another trip in the way-back machine...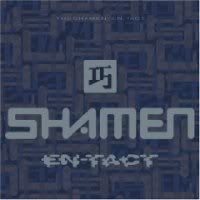 ... because in terms of Electronica, this is ancient history! But good history! Yeah, you may turn up your nose at
The Shamen
now, but when this came out, it was hot, yo! Actually, I wonder how many of you were of music-buying age when this came out. I'm sure most of ya are not half the geezer I am. Anyhoo, this album definitely falls under the category of those that have not aged gracefully, but out of all the tunes on it, this remix by Mr. Jack Dangers aka Meat Beat Manifesto was and still is my jam...
(My sexy player site isn't working today... grrr. So you'll just have to trust me. C'mon, you know you can. Now just follow me into this here windowless shack and I'll play you a little tune. Did I mention I have candy?)
(UPDATE - 11/15/2102: Would you believe this post just got DMCA'd FOUR YEARS AFTER I POSTED IT??!?! ARE YOU FUCKING KIDDING ME?!?!? What a joke...)
Head Shaman Mr. C now runs a fine House label called
End Recordings
along with Layo from Layo & Bushwacka, so there's something a little more up to date for ya whippersnappers...
... now get off my lawn!