Because if I'm only going to be able to fit in a couple of posts a week, the least I can do is keep it super-timely and hip...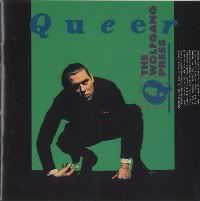 Or not. At least it's proof that I really do pick the songs on here at random. So...
The Wolfgang Press
, eh? What exactly is that name supposed to mean? Is it a person? A thing? I don't get it. EXPLAIN YOURSELVES, SEMI-OBSCURE LATE '80S/EARLY '90S ALTERNATIVE POP ARTIST! Anyhoo, I'll bet anything I first heard of these guys on
120 Minutes
. Hey, I got a joke for you...
Tone is so old...
How old is he?
Tone is so old that he can actually remember a time when watching MTV could actually expand your musical knowledge and not just give you brain herpes.
A knee-slapper, that one. But seriously,
120 Minutes
and
Yo! MTV Raps
made me the music freak I am today... and then the rest of the day they played Winger and Color Me Badd, but still...
The Wolfgang Press - A Girl Like You (ysi)

Stay tuned to Tonegents for the hottest tracks on wax...