Another amazing show in DTLA this past Friday...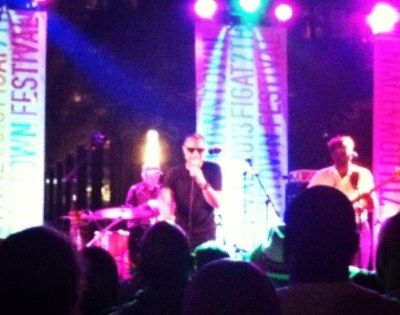 Jose James
has
has long been a favorite around here
and until Friday was near the very top of the list of artists I've desperately wanted to see live but haven't. (Currently also near the top of that list... Fat Freddy's Drop, Beardyman and Portico Quartet to name a few...) And lemme tell you, when I finally got the chance, the man did not disappoint. I wouldn't have thought that the dude's voice could actually be even BETTER live, but damn... just damn. His tight-ass band brought an extra level of energy to the tracks from his new album
No Beginning No End
... and don't even get me started about the Bill Withers tribute. There can't be too many humans alive that can do Bill justice, but Jose is one of them. Damn. Here's a tune played Friday...

And now some video, this one featuring a solo from fantastic trumpet man
Takuya Kuroda
, who has his own album upcoming on Blue Note. I'll be keeping an eye out for that one...
Don't ya wish you were there? (Hint: You do.)