The return of a legendary African band today...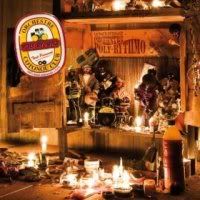 I blogged on them quite some time ago
after first discovering 'em and in the time since I've decided that
Orchestre Poly-Rhythmo
from Benin are probably the most amazing band to come out of Africa that doesn't have someone named Kuti in it. Because, and you may not know this, I am the one who decides those sort of things. I won the right in a raffle. Sweet. Second prize was a crock pot. Also sweet. Anyhoo, after a 20-year absence, the Strut label has gotten the band back together and guess what... they still sound pretty damn good...
Orchestre Poly-Rhythmo - Tegbe (ysi)

Interestingly, the Orchestre's
debut album from 1973
was also recently re-issued. You should get that, too. Compare, contrast and report your findings to the group...