I'll see if I can get this one in before these crazy winds blow my narrow ass all the way to Pacoima...
Funk D'Void
is a Scottish dude with a Swedish name (Lars Sandberg) who's been making pumpin' Techno jammies for the legendary Soma label for quite some time now. Wait a minute... did I just type the phrase "pumpin' Techno jammies"? I did? Wow. Anyhoo, this jammy isn't really all that pumpin', of course... as I follow my usual practice of telling you one thing then giving you another. I'm a dick like that. This is the last tune on the record... a nice, relaxing coda to all those... sigh... you know...
Funk D'Void - Sueno For Someone (ysi)

And if you don't believe me about that wind, I offer you this scene from my neighborhood this morning...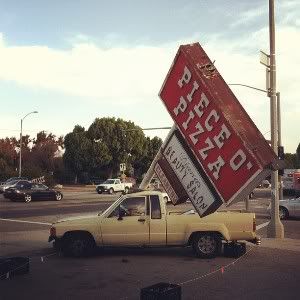 Sign 1, Nissan 0 F
Damn!