Just in case you missed it, be sure and check out
the brand new holiday mix
before you read on. Go ahead, I'll wait...
...
...
That shit is merry as fuck, ain't it? Damn skippy! Anyhoo, moving on...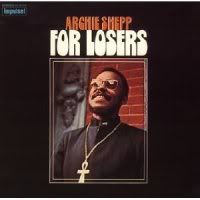 So what happens to a Jazz standard when it falls into the hands of a Free Jazz lunatic? I'd imagine that in some cases results aren't pretty... that the tune is roofied, taken behind the shed and thoroughly defiled... but here Sax man
Archie Shepp
treats this Duke Ellington classic like a lady. The worst he does is show her a little porn... but it just kind of excites her a little and she goes to bed thinking naughty thoughts and maybe uses a banana for something...
Archie Shepp - I Got It Bad (And That Ain't Good) (ysi)

But seriously, go get that Christmas mix. DON'T BE A GRINCH, BINCH! Get it? Binch! Ha!