So I didn't quite finish. I coulda told you there was a good chance of that happening. Sound the fail horn!
I mean, I could have done like last year and spent an entire week putting together a mega-mega Sunday post only to have it DMCA'd twelve hours later... but that almost resulted in me murdering several innocent woodland creatures last year, what will all the blind rage it stirred up, so it's probably just as well. But we had a good time, eh? Discovered some new favorites, no? Indeed. So back to the world of randomness we return. An old Tonegents fave popped up first...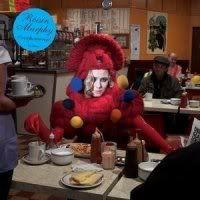 With the recent tanking of Madonna's latest album (a well-deserved tanking, I should ad, as it was truly, disappointingly horrid), we need the return of a real diva 'round here. So the question is... what the hell has
Roisin Murphy
been up to? Get off your ass and get crackin', girl... the world of Pop needs you!
Roisin Murphy - Let Me Know (ysi)

See, you don't miss Blog-achella at all. 'Tis almost as if it never happened...