Okay, so it's about time I started sharing some of my new acquisitions made whilst Blog-achella-geddoning. Here's one now...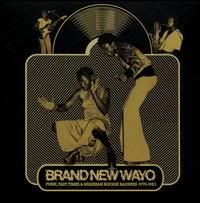 Just picked up this amazing compilation, the complete title of which is
Brand New Wayo: Funk, Fast Times and Nigerian Boogie Badness 1979-1983
, and this shit is off the hook. That title describes it better than I could, but I'll just add that this stuff is supremely funky and catchy... I woulda liked to go to the parties where this was playing. Maybe. I mean, I have no idea how killed I'd get in Nigeria in 1970... but if the answer to that is "not very" then I stand by my statement. This is also one of the most nicely remastered African comps I've heard in a while. I'll be playing this out at my
imaginary
DJ gigs fo sho...
Mixed Grill - A Brand New Wayo (ysi)

By the way, how amazing of a band name is Mixed Grill? The guitar player is a chicken and the drummer is a bratwurst! HEY-YOOOOOO!
Have a good weekend...