So I got a second submission on the Facebook page and I'm happy to say that we are two-for-two in the not sucking department. Good show, people. Now, I cannot support this band name, but the tune ain't bad at all. Here's... wait for it...
Ballerina Black
. Told ya...
And hey holy shit this thing starts next weekend...
Thundercat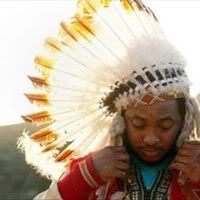 Who he is:
Mr. Steven Bruner, FlyLo associate and bad-ass bass player...
What he sounds like:
He's another one of the guys on the jazzier end of the Brainfeeder crew... much like
Austin Peralta
, who I saw live this summer in one of those odd occurences in which I actually go out in public.
OLD.
I'm just, like, really busy, man... anyhoo, I'm also not sure this is the best song on his debut album, but I gotta love the
baseball card reference
...
(THIS POST APPEARS TO HAVE MADE DMCA'D. HEY THUNDERCAT, MAKE SURE TO THANK YOUR RECORD LABEL FOR FUCKING YOU.)
What I think:
Groovy shit and I like his look. Here's an example of the bass bad-assery I was speaking of earlier...
Back from vacation next week. We'll see how that goes...