"You know how many hits I got?"
That's what
Prince
asked the crowd as he started his third and final encore Friday Night at the Fabulous Forum of Inglehood (always up to no good). Then he pounded through a quick medley of 5 or 6 huge hits that he hadn't gotten to in the main show. And lemme tell ya, he got to a lot of damn hits in the main show. It ain't braggin' if you can back it up, right? But I suppose we should start at the beginning...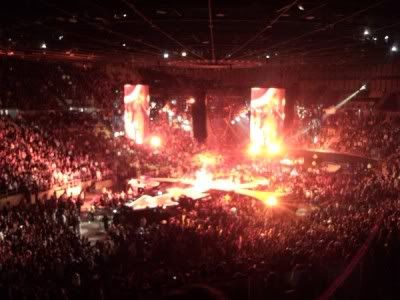 One-upping the traditional "Concert In The Round" format, this was the first ever "Concert In The Unpronouncable Glyph That I Totally Made Up Because I'm Fucking Prince And That's How I Roll"
As far as I can remember, Prince's
When Doves Cry
was the first 7" single I ever bought, so it's kind of incredible that this was the first time I ever saw the Purple One live. But this $25 deal on a 21-show run in L.A. was just the ticket to right that wrong. Shit, you can barely get lunch and a beer in this town for 25 bucks, let alone a Prince ticket. So I found myself in those seats up there as the show began with... "Dearly beloved, we are gathered here today..." which... perfect, right? And then it was just on, hit after hit (how many does Prince have again?) after funky-ass hit. No
Chaos & Disorder
in it's entirety, which was my fear. Hell, Sheila E. was even there and got plenty of time. Ya can't front on Sheila E., kid. So the place was jammin', bodies heck a' slammin... we were dancing like white folks and then we got to move down to join a friend in these seats here...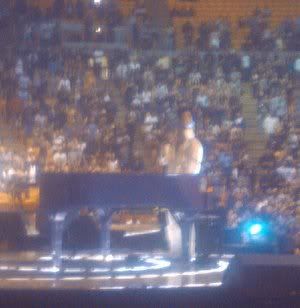 Not to talk shit, but I hope I'm not that blurry when I'm 52...
Don't you love a high-quality phone camera? Anyways, down at the side for all of the encores, especially the "Purple Rain" confetti drop, because fuck yeah! I won't bore you with the song-by-song rundown... just know that yeah, he played your favorite. And this one, which may be lesser known but was Top 20 on the charts itself... and an unexpected highlight for me...

So in summary... Prince fucking rules. If you're in L.A. and don't go see one of these shows, you're losing at life. Oh, and to answer Prince's question, I looked it up on Wikipedia. The correct answer... a fuckload...