What better way to celebrate the return of Tonegents after a week off than with some FREAKY DISCO MADNESS!
Which comes courtesy of
Kongas
, a group of French Disco ruffians that were originally led by legendary cat
Cerrone
... who had already left the group by the time they made this, so that point's kinda pointless, eh? Might as well mention former Major Leaguer Rick Cerrone...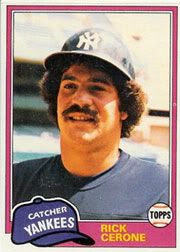 That hair says "Disco" to me!
(Well, either that or "Kidnap Van"...)
Anyhoo, get ready for a percussion extravaganza. There's a male vocal at the beginning that's a bit questionable, but once it moves past that, it's all funky monkey business... and a lion at the end, too.

"In the jungle of my mind"? The fuck? Never heard that one before. Might make for an original pick-up line. My mind is like a jungle baby... it's full of screeching monkeys and deadly snakes... wanna make out?