We visit one half of one of the all-time dynamic duos today, and I'm not talking about that little twerp Robin...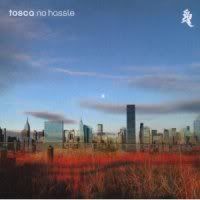 The status of Kruder & Dorfmeister is so legendary in the world of Electronica that one might very well forget that they never even put out a full length record of original music together.

"Whaaaaaa?!?!?"
It's true! As a matter of fact, both Peter Kruder and Richard Dorfmeister have been far more prolific since they parted ways... Kruder with Peace Orchestra and especially Dorfmeister and his
Tosca
project (with his buddy Rupert, which is easily one of the 10 funniest dude names I can think of, right up there with Randy, Lance and Bruce). Check the chilly chill...

You know, Raymundo is pretty funny sounding, too. "Rupert, Raymundo. Raymundo, Rupert." Tee hee.