So yeah, I missed posting for Halloween... I'll make up with it today with some seriously creepy shit...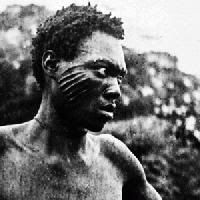 That cover's a good start, eh? The dude kinda looks like Seal after a few months of heavy meth use. But that's not Manchester producer
Andy Stott
in the photo... Andy is a pasty white guy, of course. But homeboy has some dark, dark sounding music on this record. It's slow, sludgy techno that kinda sounds like it's been laid out on the street and torn up by one of those things they strip the top layer of asphalt off the road with when they repave it. It's music for a dancefloor that's submerged in a pool of sulphuric acid. It's... well, it's pretty fuckin' dark is what I'm tryin' ta say. Just keep in mind that this one is by far the "happiest"-sounding track on the record...
Andy Stott - Intermittent (ysi)

I think I wanna put this album on in my apartment, on repeat, at ear-splitting volume for three or four days straight and... you know... just see what happens. I let y'all know how that works out...