And now for the greatest England/Japan collaboration since Bond & Odd Job...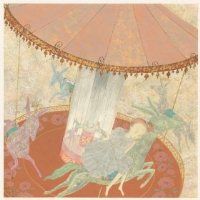 It is between British Downtempo producer Kidkanevil, who's got a couple of nice albums already in the ol' collection, and Japanese dude Daisuke Tanabe, who I'd not heard of before, under the name
Kidsuke
. See what they did there? Clever, huh? Here in L.A. buildings like to do that when they're on the corner of two streets, so you end up with horrible names like the Laurelbev and the Melcox. Do they do that in other cities, or is L.A.'s lack of creativity just that pervasive? Discuss. Anyhoo, this is a very distinct sounding record... lots of tinkly toy-ish sounds matched with deep bass and off-kilter beats. Me likey...
Kidkanevil & Daisuke Tanabe - MoOoOoOn (ysi)

Now I just await the collaboration between Evel Knievel and Daisuke Matsuzaka, to make a reference absolutely no one who ever reads this will get. GOODNIGHT CLEVELAND!