Well, hello there. I have finally returned from a two week hiatus which involved copious amounts of hot dog eating, sweating and having my blood sucked by assorted insects. Ah, summer...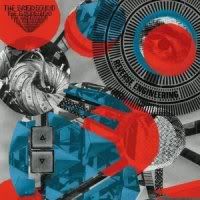 And I return with a track from a new project by Simon James (although not the one from Woolfy) and DJ Format called
The Simonsound
, because apparently this Simon guy is a bit of an egomaniac. I can see it now.
"Hey, I've got the perfect name for our project!"
"Cool. Hit me."
"The SIMONsound."
(silence)
"What? Something wrong with that?"
"Nah, nah. That's... great... (under breath) dick."
"What?"
"Nothing. Simonsound. Love it."
That aside, the record is a retro, lounge-y, extremely Mooged-out affair that features some interesting covers, such as this take on the oft-sampled Bob James classic...
(REMOVED BY REQUEST FROM SIMON HIMSELF. APPARENTLY HE DOES NOT WANT YOU TO HEAR OR FEEL COMPELLED TO PURCHASE IT. FINE BY ME.)
Okay, no more of these extended breaks in 2010. Goin' hard until Christmas, folks. STRAP IN!!!!!!