Hey, back again! Now, I could spend quite a bit of time ranting about the Grammys, I suppose... but honestly, what's the point? I can't stand Arcade Fire the same amount I can't stand the people they were up against, so I got nothing on that one. Love Esperanza Spalding but she's hardly new, so even though they got that right, they still kinda fucked it up. Really, the only thing that raised my ire was Cee-Lo's "Fuck You", the most genius Pop tune of the entire year (and if you disagree with that, I will fight you), getting beat out in not one but BOTH of the big categories by
this load of WTF
? And don't get me started about Karaoke Madonna In a Fucking Egg... and look at that, I ranted on about The Grammys anyway. So pointless. Sigh...
Let's rant about Coachella for a bit then... with our first long list of lameness...
First we got
Sander Kleinenberg
, a House DJ playing all the big room bollocks. Full disclosure: I once went to a Sander Kleinenberg show and had fun. But I recommend staying out of the Sahara Tent for anything but the really essential live acts later in the night unless REALLY you like wearing other dudes' dude-sweat...
Berkeley-via-Brooklyn Indie rockers
The Morning Benders
are the closest of this group to getting love from me, but their undeniably interesting sonics are let down by some vocals that I'm not quite feelin'. I'll post a vid over at the
Facebook page
, so go over there, join in the fun and check it out. Bonus content daily! /endplug
The Drums
are an awful waste of a good band name...
Hey, can we just stop it with the whole retro-80s shit, please? Especially when it's as bad as
Cold Cave
. Yikes...
Titus Andronicus
have been getting a lot of buzz lately, but their Punk is nothing you haven't heard before a million times. They're a-"meh"-zing...
I made it a point to miss
Yacht
when they opened for Chromeo & The Chemical Brothers at the Hollywood Bowl this summer, and I suggest you follow that strategy for this show as well...
And hey, remember when
Klaxons
were a sure shot to become the next Biggest Band In The World? Yeah, neither do the bloggers who said so... which brings us to another unexpected treat...
Gayngs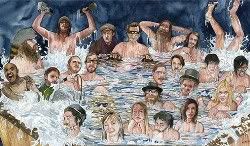 Who they are:
A supergroup... of Minneapolis bands I've never heard of/don't care about. Bon Iver, Megafaun, The Rosebuds, Solid Gold, Doomtree... huh? Oh, and there is rapper P.O.S., who we like... but yeah, who are these guys?
What they sound like:
Slow, trippy and a little bit funky, with a love for '80s Soft Rock which somehow doesn't ruin the whole thing. And every song on the record clocks in at 69 bpm... how cheeky! It's kinda hard to describe, but it's really quite good. Just check it out...
Gayngs - The Gaudy Side Of The Street (ysi)

What I think:
I think they've overcome their horrible choice of band name quite nicely. Plus I hear they do some fun covers in concert, like Sade and the Alan Parsons Project, CAN I GET A WHAT WHAT?!? But today's live clip is of the exact same song you just heard, because it's the only thing on YouTube with decent sound. Deal with it...
And that's that. Made it through the whole post without a gay gang joke. I'm impressed with myself...