... although I wouldn't blame you if you thought I had. Wow, I sucked at this last week. One measly post? What am I, a DMV employee? Pick it up, Tone! Especially since this undercard ain't really giving us a whole lot of chaff lately. But here's some now...
Skrillex
is a Fidget House dude, so whatever... plus he's very stupid looking, which only serves to fuel my scorn, so double whatever!
And
The Aquabats
are a prototypical Orange County Rock band (kinda punky, kinda surfy, kinda trying really hard to be funny) whose wacky matching superhero costumes are probably the most interesting thing about them, so pass...
... bringing us to someone new who sounds old...
Black Joe Lewis & The Honeybears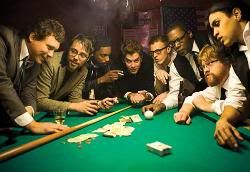 Who they are:
An Austin, Texas band that's just one dude away from being able to call itself Black Joe Lewis & The Whiteys, which would be an even better name than what they have already...
What they sound like:
Though Black Joe seems to channel James Brown in his vocals, the music is like a garage version of Funk, chock full o' dirty guitars. Kinda like a Soul Revue that takes place at a junkyard. I have no idea what that's supposed to mean. Anyhoo... the word "gutbucket" comes to mind, and
that is always a good thing
...
Black Joe Lewis & The Honeybears - Get Yo Shit (ysi)

What I think:
I like it. The Funk is few and far between at Coachella... the true funk, anyway... so you better not miss this if you like it stanky...
Okay, I better wrap this up or I won't get it posted 'til Thursday at the rate I'm going...