Oh... busy, busy me. But I'm finally back. Saw none other than Ozzy Osbourne in concert Tuesday night. Since
me & Ozzy go back
, I enjoyed it thoroughly. But I gotta say... the crowd... it was like a trailer park threw up on a biker convention. Damn...
Hey, guess what kind of music
12th Planet
makes. If you guessed "Dubstep", you just won a year's supply of Rice-A-Roni, The San Francisco Treat. But it's not great Dubstep, so I'll pass on by. After all, man cannot live on wobble bass alone...
"
Gypsy & the Cat
are 21-year-olds Xavier Bacash & Lionel Towers who only a year ago began making music in a garage in Melbourne." And now they're playing Coachella. And, suprisingly, they're pretty decent. I hate overachievers... but the band name is awful so NO POST FOR YOU!
Scala & Kolacny Brothers
... now here's something different... a Belgian girls choir. I can think of a couple situations in which I could be very nicely entertained by a Belgian girls choir, but Coachella isn't one of them. Nudge nudge wink wink saynomore! Thing is, it's a Belgian girls choir that covers Radiohead and The Knife and ahhhhh, I get it now. Gimmicky... although you could maybe say that about our next featured act... but you'd be wrong...
Brandt Brauer Frick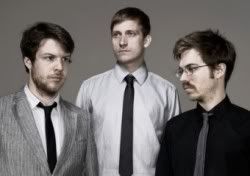 Who they are:
They are not personal injury lawyers or fine watchmakers, despite the name. They are, however, German, and therefore not to be trusted around your schnitzengruben...
What they sound like:
Ladies and Gentlemen, Acoustic Techno...
Brandt Brauer Frick - Paparazzi (ysi)

What I think:
How about that? I know "Acoustic Techno" sounds gimmicky, but I think you'll agree that is some solid stuff. Some of their tunes have a little bit more electronics, though, so they are not stuck in any stylistic corners and the end result is pretty damn neato. They've been know to play with a small orchestral ensemble, but I imagine for Coachella they'll probably roll with this configuration...
... which is not quite as acoustic, but totally fine by me. Don't think the Ozzy crowd would be too into it, though...