Sometimes you just don't feel like putting that much effort into it...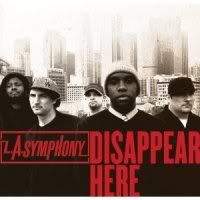 Interestingly enough, when doing my "research" on Hip-Hop group
LA Symphony
, I learned two interesting things... 1) They are from, surprisingly, Los Angeles and 2) A dude I used to work with was apparently in the group, but not during when I worked with him. Riveting, stuff, eh?
LA Symphony - Put Up Or Shut Up (ysi)

Yeah, so not the greatest post I've ever written, but the next post will be a milestone achievement, just you wait and see...