Today I got some newness for ya from a couple of guys who are musical Old Faithfuls...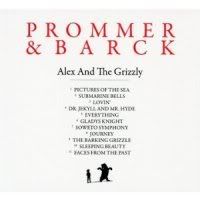 Christian Prommer is part of Truby Trio, Fauna Flash & Voom:Voom and Alex Barck is part of Jazzanova... between the two of these dudes, you're talking about hands on most of the Compost Records family of fine musical products. So when they form together under the cryptic-yet-clever moniker
Prommer & Barck
, one is right to expect quality. The record's a little more House-oriented than I would have expected, which is a pleasant surprise... obviously it's not peak-hour jackin' House, but the 4/4 is there on most songs. It's the kind of House you'd expect a dude from Jazzanova & a dude from Truby Trio to make. My only qualm... apparently Mr. Barck is one of those dudes who thinks he can sing... and he's, well, he's almost right. Thankfully the vocals are more of the float in/float out variety and so they're not a dealbreaker. A bit dodgy? Sometimes. But no dealbreaker. To wit...
Prommer & Barck - Submarine Bells (ysi)

I think this record is probably gonna end up being a growing on me. It's not something you can take completely in in one listen, for sure. Lotsa little surprises and change-ups in there. Again, these two guys aren't making DJ tools here. Get on it...