You may read this and think that I don't like anything. That's not exactly true, but no... I'm not terribly impressed with the top of Saturday's lineup...
St. Vincent
's website is has the URL "ilovestvincent.com". I find this to be quite presumptuous. And in my particular case, false....
To paraphrase Denny Green,
Godspeed You! Black Emperor
is not who I thought they were. I actually quite like the reunited Montreal band's Mogwai-like post rock. I'm gonna do a little more digging on them. You should, too, if that's your kinda thing...
For a minute there, I thought
fIREHOSE
was
FireHouse
... that woulda been a weird booking, huh?
The thing about
Feist
is, well... her stuff makes for great remixes, but I'm not nearly as in love with the originals.
Andrew Bird
was rated a "meh" the last time he played the big shinding my favorite music blogger... me. So I'm gonna trust that opinion...
Sebastian Ingrosso
is one of the members of Swedish House Mafia and thus can
suck a bag of dicks
.
Jeff Mangum
is the dude from Neutral Milk Hotel, if that means anything to you...
I thought that
Miike Snow
might be something I would like, but upon listening to a couple of cuts from their new album, I realized that I must have had them confused with someone else... someone who made listenable Pop music...
Kaskade
is a handsome man, I'll give him that....
Upon a thorough YouTubing, I gotta say I don't care so much about
Noel Gallagher's High Flying Birds
as it's no Oasis, which will probably chuff off a bunch of people, the first of which being Noel Gallagher. But it's just that Liam's a better singer, dude. Deal with it...
David Guetta
should be playing the KISS FM Summer Jam instead of Coachella at this point, no? Or are we just gonna have next year co-headlined by Fergie & Pitbull? Just sayin'...
I'll leave
The Shins
to Zach Braff...
And I'll congratulate
Bon Iver
on his Best New Artist Grammy win over J. Cole & Nicki Minaj. Score one for the beardy-stroky set, I guess...
Which brings us to your Saturday headliner...
Radiohead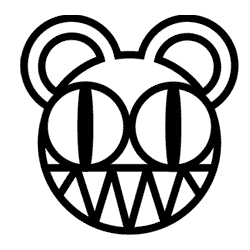 Who they are:
The band your band could smell like.
What they sound like:
I guess this header isn't really necessary in this case... here's one off the
TKOL RMX
comp reworked by new Tonegents fave Jacques Greene...
Radiohead - Lotus Flower (Jacques Greene Remix) (ysi)

What I think:
I think they're the best band in the world. But you knew that. Once again, huzzah for the YouTubes... as here's their full set from Glasto '11... in nifty crowd-sourced fashion. Enjoy...
2/3 of the way done. Woot.