Canadian Hip-Hip... it's not just about Snow anymore...
The Airplane Boys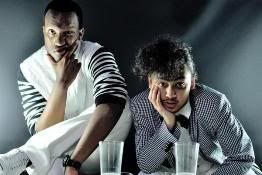 Who they are:
Beck Motley & Bon Voyage, a pair of rappers from that new Hip-Hop hotbed (and I don't even mean that sarcastically), Toronto...
What they sound like:
Just good indie Hip-Hop with some nice, original production... so of course, I'll just give you the tune where they rap over a decade-old Radiohead joint...
The Airplane Boys - Ice Age (ysi)
(These guys provide their tunes to you on free mixtapes via their website! Fuck yeah!)
What I think:
I think it's funky fresh and not at all wack. Oh, and live band + no hype men? Sign me up...
You know, I think Snow should follow Vanilla Ice's lead and get himself a totally
unexpected new career and corresponding reality show
. Maybe he could become one of those dudes that catches catfish with his bare hands...