No, there's no connection between that fat piece of shit and today's Coachella acts... I just thought it needed to be said. Anyhoo, we're covering exactly one line on the poster today...
And that line starts with
The Big Pink
, about whom
I had some lovely things to say in 2010
...
Next come
Black Lips
, about whom
I did NOT have some lovely things to say in 2008
...
Grace Potter & The Nocturnals
are actually nowhere near as bad as I thought they'd be. I actually have their best song, "Paris" in the DJ Lately rotation and have supplied the video thereof at
the Facebook page
for your review...
I'm very seriously on the fence about
tUnE-yArDs
. This chick really rides the fine line between interesting and awful and I just can't quite figure out which one she is. Plus fuck the way she does the random capitol letters in her handle. It serves merely to irk me, girl...
Laura Marling
is just a sensitive girl with an acoustic guitar whose music makes me want to kill myself...
... whereas
The Head And The Heart
are a bunch of sensitive dudes with acoustic guitars whose music doesn't make me want to kill myself quite as much as Laura Marling's, so they got that going for 'em...
And
Destroyer
is Indie Rock darling and perennial blog-fodder Dan Bejar, who seems to be doing a '70s Soft Rock thing these days. I'll pass, bringing us to...
Kaiser Chiefs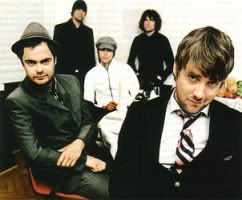 Who they are:
They are Brit-Rock veterans at this point, eh?
What they sound like:
They've updated their sound with a bit more electronics lately, which always scores some bonus points from me. And although some of the tunes on the new records sound like they are going to fall completely apart at the seams, they still manage to find some of their trademark huge hooks when it's working right. To wit...
Kaiser Chiefs - On The Run (ysi)

What I think:
Ever since I saw one of their live shows on the teevee, I've been a fan. And you should be, too...
Now if you'll excuse me, I predict a bowel movement, so I'm out...