Since I'm not the type of DJ who feels the need to keep his secret weapons to himself (I'm looking in your direction, Dewey Chan), I'm gonna drop one of mine on you today...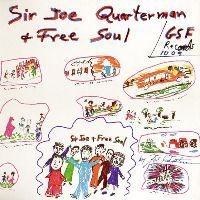 Sir Joe Quarterman
was a little known D.C. Funk man who put out only this one full-length album (and a few 45s) in his career and then went on to become an architect. Different. But I'll bet when he went to all his architect parties and put this song on for his new friends, they wondered why the hell he ever quit music... not because he was a shitty architect, but because DAMN this blast of Funk is amongst the finest ever laid to wax. You heard me. Dig it...
Sir Joe Quarterman & Free Soul - (I Got) So Much Trouble In My Mind (ysi)

Oh shit is right. You're welcome...