It's always pretty exciting when one of the artists I post about actually drops by and leaves a comment on the site. Bassnectar was super-stoked that I posted his tune. Bigga Bush and Tim "Love" Lee were both chuffed that someone was still bangin' some of their old classics, etc... but here I have a first for you, as a couple of guys I have massive respect for actually hit me with some (relatively) exclusive, unreleased tunes! Big day, people. Big day...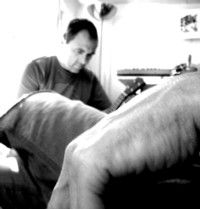 The Cutler
are Steve Cobby of Downtempo legends (and Tonegents faves)
Fila Brazilia
and the mystery man who revealed himself to me only as "Pork"... whose real name I shall not divulge, but you may have heard of Pork Recordings so we'll leave it at that. If you haven't...
here
. So yeah, not the usual "Hey dude, check out my crappy music" that I often get. I'm not saying everything I get sent is crap, I'm saying everything YOU send me is crap. See the subtle difference there? But I kid, dear readers. I kid. Anyhoo, this is most certainly not crap. It's about exactly what you'd expect knowing the steez of the folks involved... eclectic, funky, deep, atmospheric goodness of the first order. This shit will give you an ear-boner, I'm tellin' ya. And you know where you can put that. From the forthcoming
The Best Things In Life Aren't Things
on the excellently named
Steel Tiger
label, here's a couple from The Cutler...
The Cutler - That's What I Feel Inside (ysi)
The Cutler - Burn The Bankers (ysi)

You may also want to check out their
Soundcloud
which has some more downloadable goodness for ya, and their
Facebook
to make with the liking. AND BUY THE DAMN ALBUM WHEN IT COMES OUT! Cheers...