Sometimes you find the funk in the most unlikely places... like Alexandria, Virginia...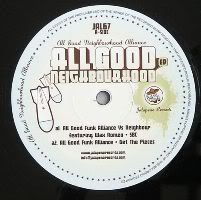 As you all know, I'm not one to cut and paste shit from other sources unless I am feeling particularly lazy or unless said other source really nails it. Well, whoever wrote this on the
All Good Funk Alliance
Facebook page pretty much nailed it...
"All Good Funk Alliance are to funky Breaks what Inland Knights are to funky House. The kinda-under-the-radar guys who are both prolific and consistently awesome. Like the Knights, these dudes simply do not put out a bad track."
Couldn't have put it better myself. And as a matter of fact, I didn't...
All Good Funk Alliance - Get The Pieces

Somebody hosed all my bandwidth overnight, so you're going to have to deal with the ugly-ass Goear player for a few posts. Life's a bitch, innit?