So the Coachella lineup is
out and looking adequately un-shitty
, which raises a bit of a dilemma for moi. Do I press on with the Blog-achella tradition or just let it go softly into that good night? I ask because it became pretty obvious last year that I don't have time to do it properly... is Half-Assa-Blog-achella good enough for you, fine reader? Let me know, because the ironic thing is that I'm more likely to go this year than I have been in a long time. Stars aligning and whatnot... so it is in your hands. Really. Leave a comment...
So, while we wait to see how that goes...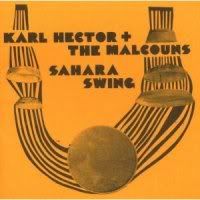 Here's some funk on an Ethio-tip from
Karl Hector & The Malcouns
. Dig it...
Karl Hector + The Malcouns - Following Path (ysi)

What to do, what to do...