Seems to me like the last few posts have been pretty similar in vibe, so let's change it up a bit, shall we?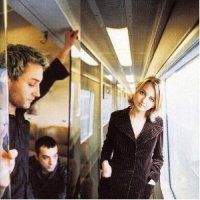 So here's what I know about
Autour De Lucie
... they're a French guitar Pop band from the '90s, I probably first heard them on
Morning Becomes Eclectic
, I probably bought this for 99 cents at a parking lot sale and I probably haven't listened to this record in 10 years. That's what I know. Oh, and the song title translates as "What Have We Done?"
Ecoutez
...
Autour De Lucie - Qu'avons-nous Fait (ysi)

Put that in your Indie Film and smoke it. And have a great weekend...