Why don't British rappers get more play in the US? I mean, they speak better English than the American rappers do. Discuss...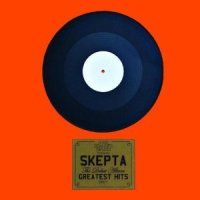 Is it perhaps a bit cheeky to call your debut album
Greatest Hits
? Perhaps, but I'd worry less about people thinking I'm cheeky and more about making sure that title didn't come true and everything I recorded from that point on didn't suck. "His first album was in fact his "Greatest Hits", because every other song he ever recorded was shit." Not good. And a situation that was nicely avoided by Nigerian/British Grime MC
Skepta
, who has built from this fine debut into becoming a regular visitor to the UK charts. Not the US charts though, because his music is actually good. Flo Rida is this guy's bitch...

Actually, Skepta's finally got himself some major label love, so maybe they'll try to break him in the states... although I'm sure the British accent will doom him with the main Flo Rida demographic: binge-drinking white junior college girls. We'll see...