Ho ho ho, pimps and hoes! So, I really wanted to do a new Holiday mix for you this year, but the 'asploded nature of my iTunes would make it way too hard... besides, this shit is a stone cold classic that could not be improved upon, ever, even by the powers of Jeebus and Santa combined. Huzzah!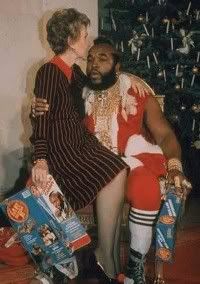 Tonegent presents "The Happy Holiday Hullabaloo"



(Continuous Mix - 72:16 - 99.25Mb @ 192kps)

1) Mr. Mackey - Carol of the Bells
2) Dean Martin - Jingle Bells (Dan The Automator Remix)
3) Shawn Lee's Ping Pong Orchestra - O Come All Ye Faithful
4) Count Sidney - Soul Christmas
5) Clarence Carter - Backdoor Santa
6) Rufus Thomas - I'll Be Your Santa, Baby
7) Run-DMC - Christmas In Hollis
8) Kurtis Blow - Christmas Rappin'
9) Mr. Garrison - Merry Fucking Christmas
10) A plus D - Give Da Jew Girl Toys (Sarah Silverman)
11) DJ John - The Christmas Massacre of Charlie Brown
12) Mojochronic - Yuletide Zeppelin
13) Freddie McGregor - Irie Christmas
14) Poncho Sanchez - Have Yourself a Merry Little Christmas
15) Wham! - Last Christmas
16) Members Only - Christmas Eve
17) Stephanie Cooke - It's Xmas
18) Nathan Fake - Silent Night
19) Mel Torme - The Christmas Song (Sonny J Remix)

Enjoy!