I've got a party jam to set your weekend off today...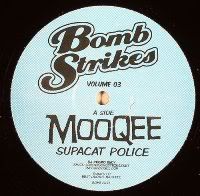 Other than Wilson or Blaylock, perhaps the funkiest
Mooqee
I know is the dude behind the most excellent
Bomb Strikes
label. They specialize in sample-based funky dancefloor steez, such as this one which has some "Rock The Casbah", some Missy Elliot and probably some other shit I'm not catching...

So how about that? Three posts in a week... kudos to ME! Have a great weekend...