This post will resemble its subject's songs. Quick and dirty...
The Kills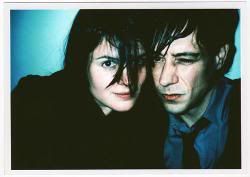 Who they are:
The dude that's boning Kate Moss and Allison Mosshart, who's also in The Dead Weather and therefore has probably boned Jack White at least once, which, ew...
What they sound like:
Kinda like the The Ting Tings after a carton of Lucky Strikes, a few fifths of Jack Daniels, a bar fight and some rough backdoor sex... what? They do!
The Kills - Nail In My Coffin (ysi)

What I think:
Since I first discovered The Kills at Coachella and have been a fan ever since, I COMMAND YOU TO SEE THEM! Don't worry, they're good...
And we will wrap up Saturday in the next post. That one's gonna be ugly...