I told you last week I had a plan on how to finish this thing, and now I can reveal it to you. Please enjoy the most ridiculous post EVAR, your Blog-achella guide to Sunday...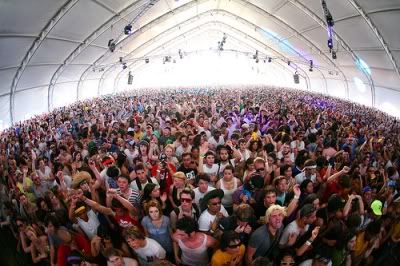 The crowd eagerly awaits a surprise set by Carrot Top
Starting off, you gotta love when the very last act in little tiny print is as good as
TOKiMONSTA
, an L.A. producer who in addition to making great downtempo beats happens to be
a cutie-patootie little Asian girl
. This is actually one of my favorite records of a young 2011. Here's a reason why...
(It was my own fault, really. I was pretty sure this post would be DMCA'd, I just hoped it would stay up for more than one day. If I had to guess, I'm betting it was Nas & Damian Marley. The fucked up thing is they never actually tell you which song it is. Oh well... fuck 'em.)
(Way down at the bottom of this thing there's a delightful little playlist of the mp3s posted. You should actually just turn that on now while you read. I'll wait...
...
...
Excellent. Now back to it.)
Ryan Leslie
is a Neo-Soul dude with a voice a little bit like Usher's but he sounds strictly J.V. at this point. Nothin' terrible, though, so maybe he'll move up to the big squad some day...
Gord Downie
is the singer from The Tragically Hip, Canada's greatest musical performers not named Justin Bieber.
I've covered them in this space before
. So, does that mean I wanna see him do solo material? No.
Thunderball
are a trio of dudes from DC who have put out four excellent albums on Theivery Corporation's ESL label, but certainly haven't generated nearly the acclaim that the Corp has... which is too bad, because they pretty much sound just like 'em, which is to say... it's some good shit...
(Shit.)
Check the Facebook page
for a bonus DJ mix by these guys...
I'm pretty sure the government of China banned the '80s while it was happening, but now that they're getting a little more hip 'round there, we have
New Pants
to show us what it would have been like. Turns out, it would have been exactly as you'd imagine...
DJ Zinc
has been around for quite a while making Drum & Bass, but this excursion into UK Funky has become his biggest hit... I wouldn't be surprised if this is the DJ Set of the Day, honestly, because I'd be much happier hearing this fresh sound than the big room bollocks most of these guys are peddling...
(Shit.)
High Contrast
is another D & B guy who's been around and actually still makes D & B, which not a lot of people still do... not well, anyway. So, kudos...
(Shit.)
Los Bunkers
is a Rock En Espanol band from Chile. I am a big fan of Chile, but not so much of Rock En Espanol...
Eliza Doolittle
is a cutesy-poo little British gal who writes cutesy-poo little British songs... seems to sound a bit like Lily Allen without the edge. And by a little, I mean quite a lot...
While
Rye Rye
is pretty the opposite, a ghetto-ass bee-yatch from Baltimore. She's got a new jam with M.I.A. that's not bad, but that whole B-More Club sound ain't exactly my thang...
So we move on to
Ellie Goulding
who is another cutesy-poo little British gal who writes cutesy-poo little British songs. Not quite the same but not wildly different. Nice enough little Pop tunes...
Good Old War
is some tepid Indie from Philly full of acoustic guitars and nasally vocals. They are as "meh" as the day is long...
If you're gonna name your band
Fun
, you better damn well live up to that... and they kinda do. There's some jangly guitars, some unobstrusive synths and some (dare I say it) fun songwriting. I don't hate 'em...
... nor do I hate
Menomena
, who sound kinda like an evil version of Fun. "An evil version of fun"... that's a cool phrase. You wanna use it sometime? PAY ME!
I don't imagine it's easy to have one of your first releases be a genre-defining classic, but that's what happened to
Joy Orbison
's track Hyph Mngo. The song was so popular, in fact, that he was able to buy vowels to put into his song titles since. He hasn't been ridiculously prolific, but he has kept up the quality... here's a remix done did...
(Shit.)
Riva Starr
, purveyor of fine House music, were a part of my non-award winning Ten Top of Ten series of the best tunes of last year, but you'll see that posting on them
didn't exactly work out great
, so I will give them a recommendation and firm handshake only...
Caspa
is a Dubstep producer, but unfortunately not a very good one...
I can't really tell if
Plan B
is a band or just a dude, but it's some tepid blue-eyed Soul... there's much better alternatives out there if you want a white dude that sounds like a black dude, let me assure you...
Not many British rappers have made much of a dent in America, but perhaps
Tinie Tempah
is here to change that. Ah, who am I kidding? But it won't be because the music is bad...
(Shit.)
OFF!
are a Punk band that I will at least give credit to for actually being Punk and not Green Day. That said, it's still pretty OFF-ful. Get it? Ha! I kill me!
Twin Shadow
is kind of the opposite of that... a non-white dude that sounds white. This is generally never a good idea, even moreso when the words "Blow Monkeys" come to mind. I mean, he doesn't sound like the singer of the Blow Monkeys, but for some reason it came to mind. Do with that information what you will...
Boy/girl Electronica duo
Phantogram
get mad bonus points for actually being from Upstate NY, Saratoga to be exact. I saw the first two Lollapaloozas in Saratoga. Lovely place...
(Shit.)
You may remember
Trentemoller
for his excellent bumpin' techno, but with his new album there's an entirely different sound. It's much more ambient (some would even say shoegaze-y) but no less excellent...
(Shit.)
Delorean
are an Electro-Pop outfit from Barcelona that I'm into until the vocals kick in, then not so much... hate when that happens...
Angus & Julia Stone
are, um... they're the kid from
2 1/2 Men
and his mom or something, right? No? Well maybe they should be because whoever they are now, their helium-vocaled folk probably only appeals to people on heavy anti-depressants...
There's not a heck of a lot to be know about
Foster The People
yet, as they only have one 3-song digital EP to their name (until next month when the debut record comes out). But much like Joy Orbison, they certainly nailed their first try...
(Shit.)
Upon Googling
City And Colour
, the first words that caught my eye on the screen were "trobadour" and "songsmith", and that's all I need to know about that. Next!
MEN
is the new band of the chick from Le Tigre that's a dude. You know the one I'm talking about... the one with the moustache? That dude creeps me out... just sayin'...
CSS
or Cansei De Ser Sexy are a bunch of kooky Brazilian girls and the dude who hangs out with them. Haven't seen anything new out by them, so I left you a "classic" vid on
Teh Facebookz
...
Jack Beats
is actually two dudes who do Fidget House, remixes mostly, of "meh" quality. Which makes it better than 90% of Fidget House, so there's that...
Health
are yet another Rock-Tronica band, and if you only listened to the first couple of songs on their Myspace, you might like them. Go a bit further, though, and things start getting dodgy. I hate when that happens...
Fistful Of Mercy
are a new band, that, like Laura Dern's vajayjay, contains Ben Harper. Sure, they've split up, but I like that joke so shut your piehole...
Green Velvet
has been slangin' hard Detroit Techno for a good long time, and everybody loves "Answering Machine" (I. Don't. Need. This. SHIT!)... but I can really only take the hard stuff in small doses before getting bored...
The last time
Jack's Mannequin
played the 'Chella, it prompted me to write this chestnut: "Is it wrong to tell someone who survived a battle with Leukemia that his music kinda sucks?" No, seriously, I fucking KILL ME sometimes...
I never thought we'd hear from
She Wants Revenge
again... I just checked out the
video for "Tear You Apart"
and it was almost a nostalgia blast. 6 years ago already? Fuuuck meee...
Speaking of the hard stuff, I give you
Lightning Bolt
. Holy shitballs. I will stay away, because I like being able to hear... and that one's gonna fucking hurt, lemme tell ya.
Everybody's all crazy about this
Best Coast
chick lately, but I'd go for either of the cutesy-poo British gals above first. Musically, as well. HEY-OOOOO!
I think it's an absolute fucking insult that the mighty, back-from-the-dead
Leftfield
are not closing the Sahara Tent, the supposed grand temple of dance music, on Sunday night. And that's really all I have to say about that...
(Shit.)
The Presets
are an Electro-Pop duo from Australia who are actually quite good,
as I mentioned in the '09 version of Blog-achella
. They haven't come out with the new one yet, so go ahead and enjoy the mp3 and video from that post...
Neon Trees
kinda sound like a homeless man's Muse. That is not a compliment...
I thought
Chase & Status
used to be cool D & B guys, but it seems now they've gone full-on crossover-tronica and are not so cool anymore...
Duck Sauce
, which is Armand Van Helden & A-Trak, were also covered in
the post so nice it was DMCA'd twice
, so go read that again, unless you only read the Riva Starr part earlier. Which would have been odd for you to do, but who am I to judge?
Everybody loves
Chromeo
, sometimes several times a day. This is a fine and healthy thing, as Chromeo has been shown to be a valuable part of a well-rounded musical diet.
I saw them this past summer and it was predictably amazing
.
Bloody Beetroots
are some Fidget Housers and blah blah blah...
Sven Vath
is still alive?
Axwell
is one of the dudes from Swedish House Mafia. I think that putting the words Swedish and mafia together is kind of riduculous. I mean, what's the Swedish Mafia going to do to you? Disassemble your furniture? Poison your meatbealls?
Jimmy Eat World
? Really?
As far as current chart Rap goes,
Wiz Khalifa
is certainly far from the worst. But he's pretty far from the best, too. (Hint: That would be the dude closing the show)
Ratatat
are an interesting case... I've never really gotten into their proper tunes, but they've put out a bunch of Hip-Hop remixes that are borderline amazing. So I'm not sure if you wanna see 'em, but definitely peep this one, which kills two lineup birds with one stone...
(Shit.)
Nas & Damian Marley
are an oddly-named group containing members Nas & Damian Marley. Can you tell I'm getting tired yet?
(Shit.)
Death From Above 1979
is the Rock band that MSTRKRFT used to be... one listen and you'll see why they became MSTRKRFT...
I'm pretty sure I'm supposed to worship
PJ Harvey
... I mean, isn't everyone?
The National
... I kinda gotta be in the mood for. And by "in the mood for", I of course mean suicidal. But I kid! No but seriously, their music kinda makes me wanna kill myself. In a good way!....
Everyone loves
Duran Duran
. EVERY. ONE. If you say you don't, you are a dirty fucking liar and should be whipped brusquely. They're actually coming on
Chelsea Lately
next week and I plan on throwing my panties at Simon LeBon. TRY AND STOP ME! You don't need a song from them... you already have them all burned eternally into your subconcious...
I've never cared for
The Strokes
much. I don't have the same seething hate for them that I do for, say, Interpol (because fuck Interpol)... I just never saw what made them so much better than any other band. I mean, not every band's sound has to be groundbreaking, but The Strokes are so un-groundbreaking that they are actually ground-smoothing. Like a steamroller. A steamroller of boring...
And finally, FINALLY we finish out this craziness, appropriately with my boy
Kanye West
. Now, a lot of people wanna hate on Yeezy, but I am very certainly not one of them. Sure, he's certifiably batshit and has an ego the size of a small solar system. I don't care. He's really, really fucking good at music. He's way better at it than just about everyone I've just listed. It's true. Just deal with it.
And here's your playlist...
(Aaaaaaaaand shit... although if you find this post on Hype Machine, you can still hear all the songs. So do that.)
And that, as they say is that. Can't wait to watch the broadcast on YouTube. I know, I know, but I just couldn't bring myself to capitulate to the giant money grab this thing has become. Not out of any sense of principle or self-righteousness, mind you... my broke ass just can't afford it this year. I mean, shit, I'd be in $600 just for tickets for myself and Mrs. Tonegent... which would leave scant few dollars for churros and frozen lemonades. Hope you enjoyed this shit. Back to normal tomorrow...