Between Syracuse's dominating victory over Gonzaga and Obama's utter posterization of the Republican Party, I gotta say it's been a pretty satisfying weekend. And today's band will not take away from that...
The Big Pink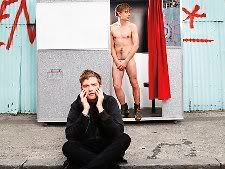 Who they are:
A British duo of which one of whom seems to have misplaced his pants. Now, never having heard of these guys before now, and with a name like that, my hopes were not high... but a funny thing happened on the way to the snarky blog post...
What they sound like:
... as these guys have a sound very reminiscent of Jesus & Mary Chain circa
Honey's Dead
, which was, as you know, a fucking
killer
record...

What I think:
The old shoegazer in me approves. I bet they even have a little My Bloody Valentine-style distortion face-melt or two in 'em. Not so much on this French TV show, but still...
Nice choice of drummer as well, boys... and Go Orange!