Yet another compilation track today. I swear I actually own some artist albums... you'll see...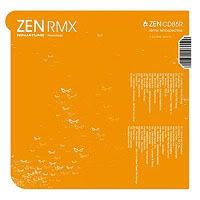 I try to keep abreast (I said "breast"... hehe) of every thing going down at the mighty
Ninja Tune
label, but somehow Mr.
Chris Bowden
has generally escaped my radar. Yes, even though I obviously own some of his music. Hey, I got a lot of stuff, okay? I can't know every obscure song on every obscure compilation!
I'm just a man, dammit
!
Okay, I'm better now. Anyhoo, Mr. Bowden is apparently a jazz player by origin, a sax man. And Easy Access Orchestra are a couple of dudes who play horns in the Herbaliser live band. So all these horny dudes got together and twiddled their knobs and out came this lovely piece of bossa-tronica...
Chris Bowden - Crockers & Killers (The Easy Access Orchestra Radio Edit)
Buy It!
By the way, I totally invented that word just then, and if I hear you use it, you owe me a nickel. Pay up, bee-yatch!