I mean, as if kids aren't annoying enough without being infinitely more talented than you. Little bastards. More on that in a sec...
... but today we start with Marlon Brando's favorite band,
The Horrors
. GET IT?!?! I KILL ME! But seriously, folks, these guys kinda have a bit of an Echo & The Bunnymen thing going on (shocking) which is sometimes better than others. I do quite like one of their tunes, and you kind find that on
the Facebook page
...
Also, we have
M. Ward
, who's just as "meh" as ever. It's called consistency, people... something today's featured artist is not old enough to even know how to achieve...
Madeon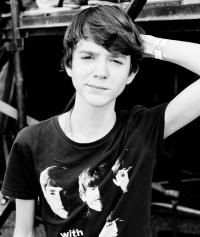 Who he is:
He's that kid in the picture. No really. He's 17. He's French. He's playing Coachella. I hate him so much.
What he sounds like:
His sample heavy house is kind of like if Daft Punk fucked Akufen. I'm telling you, this kid has absolutely no business being this good at music. I wanna punch him in his little French face...

What I think:
Oh, and as if THAT is not enough, watch what the little shit does with Ableton Live and a Novation monome controller thingy. This will freak your shit out. HE'S BARELY GOT PUBES, FOR FUCK'S SAKE!
GET OFF MY LAWN!