Allrighty! Time to start Saturday!
And the first name on the bill is
Pure Filth Sound
which appears to be a collective of Dubstep DJs from LA. So... maybe something bad, maybe something good. And then we get our first new discovery of the day...
Keep Shelly In Athens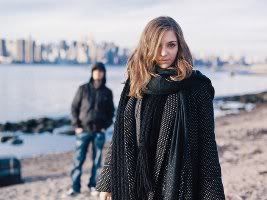 Who they are:
A boy/girl group from Athens... Greece. You thought I was gonna say Georgia, didn't you? But then this would probably some twangy Indie Folk shit and not on this blog. BTW, I hear Greece is a just incredible place to vacation right now...
What they sound like:
A throwback to the old Chick + Knob (twiddler) tradition (see: every act of the '90s), making sexy downtempo with sexy vocals and being generally sexy. And it's got a little bit of the Chillwave vibe to it on a couple of the songs which gives it enough of an update to not sound completely derivative of '90s Trip-Hop. Dig it...
Keep Shelly In Athens - Cremonia Memories (ysi)

What I think:
I wasn't expecting much from an act with a name this shitty, so needless to say I am pleasantly surprised. Here's a short set courtesy of the mighty KEXP to wet your whistle...
Nice stuff, but seriously... change the name. It's awful...