It seems that every year there is one electronic act at Coachella with an audio/visual experience that tries to top anything done before. We'll get to this year's in a second. But first...
GIRLS
is, to start, a band of two dudes, so eyes rolling already... I mean, can a couple of dudes who call themselves GIRLS even
possibly
be any good? (The answer is no.)
Jimmy Cliff
I got no problem with... but since when did
Tim Armstrong
become the go-to White Guy Reggae Guy? Because he had a Ska band 20 years ago? It sure doesn't have anything to do with Rancid (who kinda lived up to their name... never a fan). I mean, the you only have to go as far as THE VERY NEXT ACT ON THE BILL to find dudes more qualified in White Guy Reggae...
IT'S THE HEAVY HEAVY MONSTER SOUND! But I don't need to write a whole post about
Madness
, do I? Do I really?... Didn't think so. You can go watch a video and get your skank on at
the Facebook page
however...
And I got nothin' against
Cat Power
, per se... but at this point, "meh". Which, one way or the other, is never a word anyone will use to describe...
Amon Tobin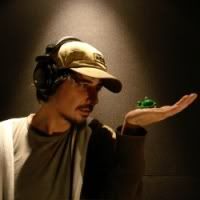 Who he is:
The Brazilain beat man has been around for quite a while now, and here's a fun fact: Not only is his real name Amon Tobin, his real name is Amon Adonai Santos de Araújo Tobin. That's a
name you'd love to touch
(but you mustn't)...
What he sounds like:
Tobin is known for laying down some of the fiercest beats in Drum & Bass, but that shit is nowhere to be found on his new record/multi-media mindfuck
ISAM
. This stuff is atmospheric, disjointed and downright creepy...

What I think:
No matter what you think of the tunes, this show stands to be this year's Holy Shit Moment, right up there with past extravaganzas like Daft Punk's Pyramid, Etienne De Crecy's Cube, the Shpongletron and the Shadowsphere. If you haven't already seen what I'm talking about, enjoy this little teaser...
If you miss this for something like Afrojack, you are a fucking idiot.
(Too harsh?)
(Nope.)