Before we get back to the big list, I just wanted to let you know that I'm gonna post up a bunch of the old DJ mixes I've done for the blog (which aren't available anymore) on the Mixcloud.
Here's the first, click and get a Brazilian
. I'll wait...
...
...
And now back to your previously scheduled program...
Suedehead
is what happens when a bunch of white people from Orange county with no soul try to start a soul band. "But, Tone", you say, "there's a black guy in the band." That's the thing... THERE ALWAYS IS! That's how they get you. But the thing is... the black guy's from Orange County, too. "Ahhhhh", you say...
It seems like this
Destructo
guy has been around for a while... the name sounds familiar to my old raver ears. But seems that he's part of the whole HARD kiddie fidget house crew, so I scoff...
Mt. Eden
sounds like a nice place until you realize all the radio stations there play nothing but fart-inducing Brostep...
We Are Augustines
? No, you are a poorly-named Indie Rock band I'm not even comfortable giving a "meh" to...
Now, I fully suspected that I would be giving some love to
Dragonette
since they've made those fun jams with Martin Solveig lately, but you know what? On their own, they're kinda just some so/so Electro-Pop...
And you're gonna start to think I dislike Dubstep if I keep shitting on all these Dubstep acts, but I posit that it is
they
who are picking shitty Dubstep acts. Like
Borgore
. Shitty. But our next act is hot shit. In case you're confused, that's a good thing. "Shit" is a very flexible adjective...
Gary Clark Jr.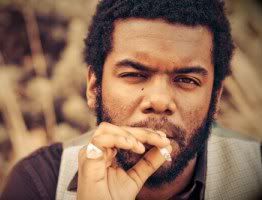 Who he is:
From Austin, Texas we have a young, honest-to-goodness bluesman.... Huzzah!
What he sounds like:
A little bit BB King, a little bit Jimi, and a little bit Hip-Hop (in attitude and funkiness). I'd read
Rolling Stone
's raves about this guy and become interested... after listening to his debut EP, I've become converted...
Gary Clark Jr. - Don't Owe You A Thing (ysi)

What I think:
Brand new authentic, funky-ass Blues? Sign me the fuck up. And he does not let down live, which shouldn't surprise you...
Hell yeah...