Well, I didn't have any songs with "Humpday" in the title, so this will have to do...
The all time bass bumpa,
Mr. Charles Mingus
makes an appearance on the ol' bloggeroo today a) because of my increasing obsession with jazz and b) because he has a song with "Wednesday" in the title... how convenient! This is a brilliant song, too, a rollicking blues workout with voices in the background that really make the feel of the song live up to the title...
Charles Mingus - Wednesday Night Prayer Meeting

I said testify!!!
And now, here's the weird thing. As I was looking around on the official Mingus website (linked above), I found this! This is real! And incredibly bizarre! Click the pic if you don't believe me...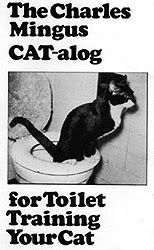 A true genius in more ways than one, apparently!