Okay, so a bit of comedy yesterday... let's get back to the serious tunes...
... hold on while I furrow my brow...
... ah, serious doesn't really work for me. Anyhoo...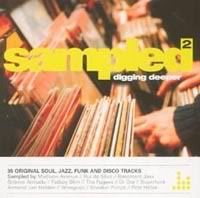 Compilations like this one are crate-digging for cheaters... and I am SO okay with that! Because I loves me to find some sample sources... they make my DJ sets seem quite clever. So here is not the most obscure one in the world, but still a great one, from Philly Soul legends
The Delfonics
. It's kinda more famous for a cover version than a sample, but hey, don't sue me... I didn't produce the compilation...
The Delfonics - Ready Or Not Here I Come (Can't Hide From Love)

Now of course that was covered by the Fugees, but I'm not gonna be THAT obvious... instead, here's the awesome Drum & Bass remix of the Fugees' cover, courtesy of
Aphrodite
, who put out some of the best hip-hop/d&b remixes there were, back when that kind of thing was all the rage...
Fugees - Ready Or Not (Aphrodite Dubplate VIP Mix)
Good luck trying to find that vinyl! I'm not even sure it was ever more than a white label... and yes, you're welcome :)