Bloody good thing Mercury's finally out of retrograde... and that's all I'm gonna say about that.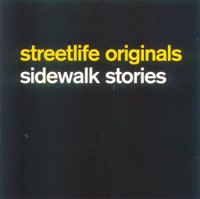 Streetlife Originals was a production alias of one Bryan Robson (who also put out a few great house records as Solaris Heights), who put out this full length on the once mighty but now unfortunately defunct Paper Recordings. And this is probably my all time favorite release by the label... it's kind of like a run through every style Gilles Peterson spins, all on one record! This track will give you a little taste. It's a mellow broken-beat style number that served as the album's opener...
Streetlife Originals - Friday At Ronnie's
Now, good luck trying to find this CD... but here's something neato. Despite the fact that they went out of business, Paper still runs an online store where they are offering their entire back catalogue in digital form. If you are at all into house music,
you need to check that out
, because all the stuff is ace.
Have a great weekend... weekly theme week ends tomorrow... thank goodness :P