Get it? "Trane"-ing camp. Because his name ends with Trane, like train, get it... like, I bet nobody ever thought of that before, huh? I kill me!!!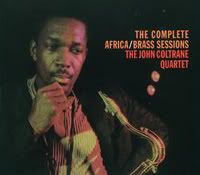 Anyhoo, it's about time we got some
John Coltrane
going around here. You may not have heard of him, but he's very good at playing the saxophone, or as Homer Simpson more properly put it, the sax-amaphone. This one's pretty interesting, 'cuz it don't seem that Trane played with an orchestra this big (17 pieces) very often, so it's a cool sound. And of course, it's an all-star orchestra, with the likes of McCoy Tyner, Freddie Hubbard, Elvin Jones, Eric Dolphy and a grip of others...
John Coltrane - The Damned Don't Cry

Not quite as bleak as the title suggests, eh? Good stuff... and here's some YouTubes lovin' for ya...
Can't beat that. Word.