Reaching back to '96 for another Deep House classic...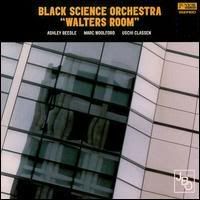 ... and I know I throw the word "classic" around quite a bit here, but I only gives ya da good stuff folks. You want mediocre music, go to some Indie Rock blog and catch the latest Deerhoof Collective Fire EP or some shit.
Like the
Street Corner Symphony record
featured here a couple months ago,
Black Science Orchestra
's first longplayer is one of the most sought-after yet impossible to find records in the annals of House music. The project was headed up by Mr.
Ashley Beedle
, who's had more than his share of success since, despite having a very silly name. This one's always been my fave-o track from the record. You gots yer
killer
bassline, yer filtered vocal, yer groovy synthwork, and even a little saxamaphone solo... what's not to love?
Black Science Orchestra - Save Us (The Jam)

The only question I have is about the title. Is it supposed to be like "Save Us", subtitled "The Jam", because this song is
the jam
... or is it "Save us the jam because we'd like to put some on our english muffins later"? These are the thoughts that cross my mind sometimes...
And hey, there's even a used copy available on Amazon right now for a paltry $60! Told you it would cost ya...
Have a great weekend, folks!