One of my all-time faves today (and a good guy to boot)... but first...
Edward Sharpe & The Magnetic Zeroes
are a bit too much on the folk-y and jangly side for me, so I will walk on past...
The Raveonettes
and their Punk/Pop thing are kind of the definition of "meh" for me. Don't love 'em, don't hate 'em...
I have no idea what
Les Claypool
is up to these days, and quite frankly I don't care. That said, I would be lying, however, if I
didn't
say that I loved Primus back in the day and got my mosh on to them live on more than one occasion. So in celebration of that, here's some super-old school steez...
Primus - John The Fisherman (ysi)

I also have no idea exactly what famed director
John Waters
is doing at Coachella. Anyone have a clue? DJ? Spoken Word? Big Gay Cabaret Revue? I would be lying, however, if I
didn't
say that I loved
Serial Mom
...
Now,
The XX
is a super-hot-shit blog darling band these days, and if I was trolling for Hype Machine hits, I would post them... but honestly after listening to a half dozen songs on their Myspace, I have no idea what the hype is about. I find their Electro-Pop to be quite pedestrian, especially compared to some of the acts we have already covered... which brings us to...
Z-Trip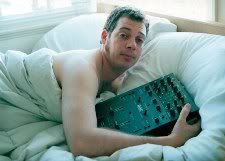 Who he is:
In my opinion, the most fun DJ in the world. Oft-imitated... poorly. Seriously, any joker with a copy of Serato and a collection of
Now That's What I Call Music
hits thinks he can rock it like Z-Trip, but I've seen some of these A.D.DJs and they can all fuck right off. "Look at me! I played 8 bars of 50 Cent and went right into Barry Manilow! I'm so fucking ironic and clever!" Fuck you. Fuck you right in the laptop, dude. Firstly, you're doing it wrong, and secondly fuck your Ed Hardy hoodie and your stupid haircut and the weak-ass hipter standing next to you while you play making vaguely gang-related hand signs every time you change songs. Did I mention fuck you?
What he sounds like:
See the video for a short bit of the Z-Trip experience... but here I've got for you a new remix he did for another Coachella act,
The Dead Weather
. They're the new group featuring Jack White and VV from The Kills and now I've covered them, too. Two birds/one stone, bitches! Also, the remix features a verse from acclaimed white rapper Slug from
Atmosphere
...
The Dead Weather - Treat Me Like Your Mother (Z-Trip Remix ft. Slug) (ysi)

What I think:
Miss it at your own peril...
Plus, he's quite famous for bringing fun guest stars onto the stage with him at the 'Chella... I've seen Beck, Chester from Linkin Park and Busdriver join in the fun, and I only saw him a couple of the times he played there. So keep that in mind... and have a great weekend...