Today is another one of those days where, well... let's just be blunt here. Saturday is not so hot until you get to the big names. This day has a weaker undercard than a women's boxing pay-per-view. To wit...
Aterciopelados
are a band from Columbia that once again make me wonder... why doesn't Rock En Espanol have more Espanol in it than just the singing? I mean, if the dude in Nickelback was singing in Spanish, would that make it any better? No, it would not... Not to unfairly compare these guys to Nickelback, because that would be a low blow... but I'm sure you
have no idea what the fuck I'm on about
get my point.
Old Crow Medicine Show
are exactly the old-timey fiddle & banjo style Country that the name would imply. HE'S A-PICKIN' AND I'M A-GRINNIN'! YEE-HAW!
I really hated
Tokyo Police Club
the last time they played
and I'm sure I'm not going to change my mind about that, for I am old and set in my ways and GODDAMMIT IT'S DRAFTY IN HERE! CLOSE THAT WINDOW!
Mew
are one of those really off-kilter Scandinavian Pop acts and I can't decide if I like them or not... which means I don't like them enough to dedicate a full post to them. Listen yourself and decide...
Dirty South
is some big floor Progressive House bollocks...
And
Camera Obscura
are a Scottish Pop act that are just a bit twee for my tastes... because I am manly and rugged and such and have no time for your quirkness. I SAY GOOD DAY TO YOU!
But after all that, here's some awesome in the form of...
Sia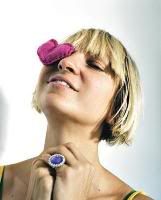 Who she is:
I guess since solo album #3 is, as the kids say, about to drop, we can stop calling her the "girl who sang with Zero 7". What do you think?
What she sounds like:
Same great voice, surprisingly happier music. Really, for someone who's as complete a goofball as Sia is, the heaviness of many of her tunes has always seemed odd. Here's a chick on stage telling corny jokes until she busts out with "Breathe", that cheery little number that reminds everyone of nothing but death, death, death. But check it out, she's gone to the disco...

What I think:
I'm sure there'll be plenty of mope-alicious goodness on the new album, but I hope there's a bit more from where this came from, too. I think it'll help her continue to build her own name. That said, here she is doing a Zero 7 song, because that's how I roll...
And because she'll totally do that one and you'll get goosebumps. Deal with it...