And so we reach Friday's headliner...
Jay-Z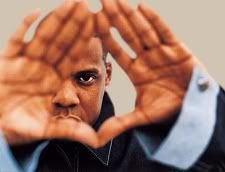 Who he is:
He's the dude that's got the hottest chick in the game wearin' his chain. (But she still made a fool of herself at the Grammys...)
What he sounds like:
It's Jay-Z people. If you haven't heard of this guy, you probably live in North Korea...
Jay-Z - Jigga That Nigga (ysi)

What I think:
Okay, so here's my take on J-Hova. I like him more as a guy than as a rapper. If you ask me,
The Blueprint
is the only above average album in his cannon and people that consider him to be the greatest rapper ever are, to put it gently, out of their fucking minds. But as a guy, pretty darn cool, classy and some other word that begins with "C". I like everything about Jay-Z but most of his music. And from what I've seen, his live show is a bit of a hype-man shoutfest, although a more entertaining one than most...
Love how he took the piss out of Oasis there. That said, I'd probably only see Jay-Z if there wasn't any serious competition in the time slot. What would I consider serious competition? Well, here in a new Blog-achella feature, are my Friday Top 5 plus one underdog I think may be capable of stealing the show.
Top 5 For Friday
1)
Fever Ray
2)
LCD Soundsystem
3)
Public Image Limited
4)
The Specials
5)
La Roux

Underdog Pick of the Day
-
Ceu
Overall, I wouldn't consider it one of the strongest Coachella days ever, but if you're seeing that 6-act show and a couple others, you are having a rather pleasant time. Have a great weekend and get ready for the Saturday steez starting in a mere 72 hours...