Hey, all... finally back. I like to take an extra day on President's Day, a sequel of sorts, in which I celebrate James K. Polk, Chester A. Arthur and Millard M.F. Fillmore... the under-appreciated ones. Don't sleep on James K. Polk, Indie kids... without him there'd be no Texas, therefore no Gorilla Vs. Bear, and therefore no one at all to fellate Animal Collective on a daily basis. So he should be your HERO!!! Anyhoo, back to Saturday at Blog-achella...
The next act on our list is L.A. producer
Flying Lotus
, who I just featured
back in September
, so I'm not gonna give him another whole post. Because (and I think I've mentioned this before) I am lazy... but maybe if you clicked, I dunno,
here, perhaps
... you might find something interesting.
Next up is
Bad Lieutenant
which is the new band of Bernard Sumner of New Order. And it sounds pretty much like New Order only more with the jangly guitars. But after the awful, half-assed performance Bernie moped through the last time New Order played the big show... and man did he
not
want to be there... I can't recommend it live...
How about Scottish band
Frightened Rabbit
? Nah, they're not very good. So...
Bassnectar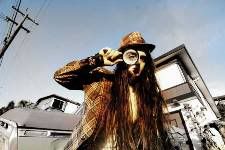 Who he is:
A hippie-lookin' dude from San Francisco who makes decidedly un-hippie-ish music. Thank goodness. Because otherwise he would be met with nothing but SCORN!
What he sounds like:
Big fat Downtempo beats that cross into Dubstep and Breaks territory when he feels like it. Now, I know I normally give you originals, but I have a big feeling this remix will be the hit of his set...
The Pixies - Where Is My Mind (Bassnectar Remix) (ysi)

What I think:
Looks like a good time. Very similar vibe live to Pretty Lights, only with even bigger visual accoutrements...
And then I come up with a witty line to sign off with until tomorrow...