This is the third time today's band has played the big show in the last four years, so forgive me if I don't have much new to say about them...
Hot Chip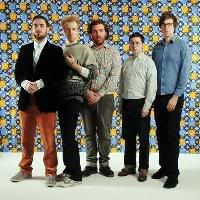 Who they are:
A band whose career has actually proven to have some legs, unlike so many other blog darlings of the past few years... it's probably because, unlike most blog darling bands, they're good.
What they sound like:
Four albums in, the Hot Chip sound is pretty well established... the new record stays with 4/4 rhythms for most of the tracks... the vocals certainly haven't changed and neither has the sexy/nerdi-ness...

What I think:
I'm still in awe of the show they put on at the 'Chella in 2008, so you bet your ass I'm all over the Hot Chip. Woulda liked to give you video from that one, but all I can find on YouTube is crappy fan-shot video. So here they are from Glasto the year before, rockin' the live New Order mash-up...
Warms your heart to see a little nerd become a big Rock Star, don't it? I just wanna pinch his rosy little cheeks...